About us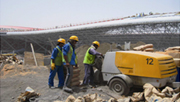 ARK Engineering Services aims at providing a leading range of specialized Construction and Marine equipment to a wide variety of industries and clients.Having been in the field of engineering equipment for nearly two decades, we are well experienced to understand the market needs and geared to handle the challenges faced by contractors in the Middle East. Our team consists of professional engineers and well trained technical staff, who address your enquiries with the latest technology and keep you at ease. We are focused on cost effective solutions with quality, excellence and customer satisfaction as our goal.
Vision
Provide the most economical and appropriatesolutions with no compromise on quality.
Mission
Emerge as a leader in the supply and rental of equipment to marine and civil sectors.
Values
Committed to meet client needs with the best solution. Excellence in quality by our expertise. Reliable in providing resolutionsandspecialized products.